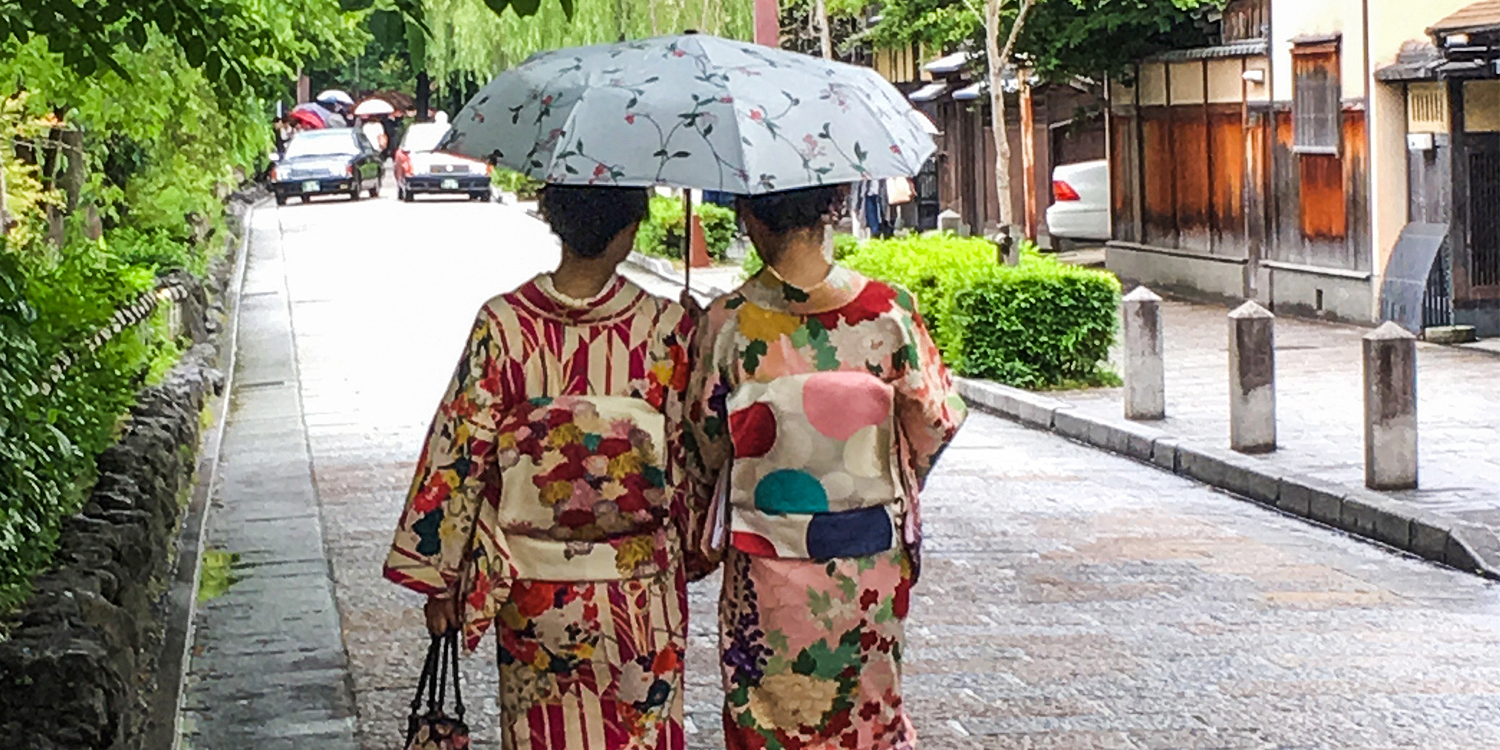 Japan with the Chigyo Sisters, Part 2
…Many trains later we returned to Kyoto, excited about the Temple Market!
The market takes place on the outskirts of an old temple once a month. Racks and racks of old cotton and silk kimonos and deconstructed kimonos were to be had; the cash stash I was saving evaporated in less than an hour. It was overwhelming! I was drawn to rolls of striped cotton. There were some lovely kasuri pieces, but I was mostly attracted to the beautifully woven indigo stripes. I had to be aware of mold and mildew. These are treasures that have lingered in basements in god knows what conditions. I passed by the racks of smelly pieces and carefully selected pieces that were fresh. The temple market was one of the reasons I wanted to come to Japan: the abundance of beautiful old textiles, some still with the patina of the bodies who wore them before.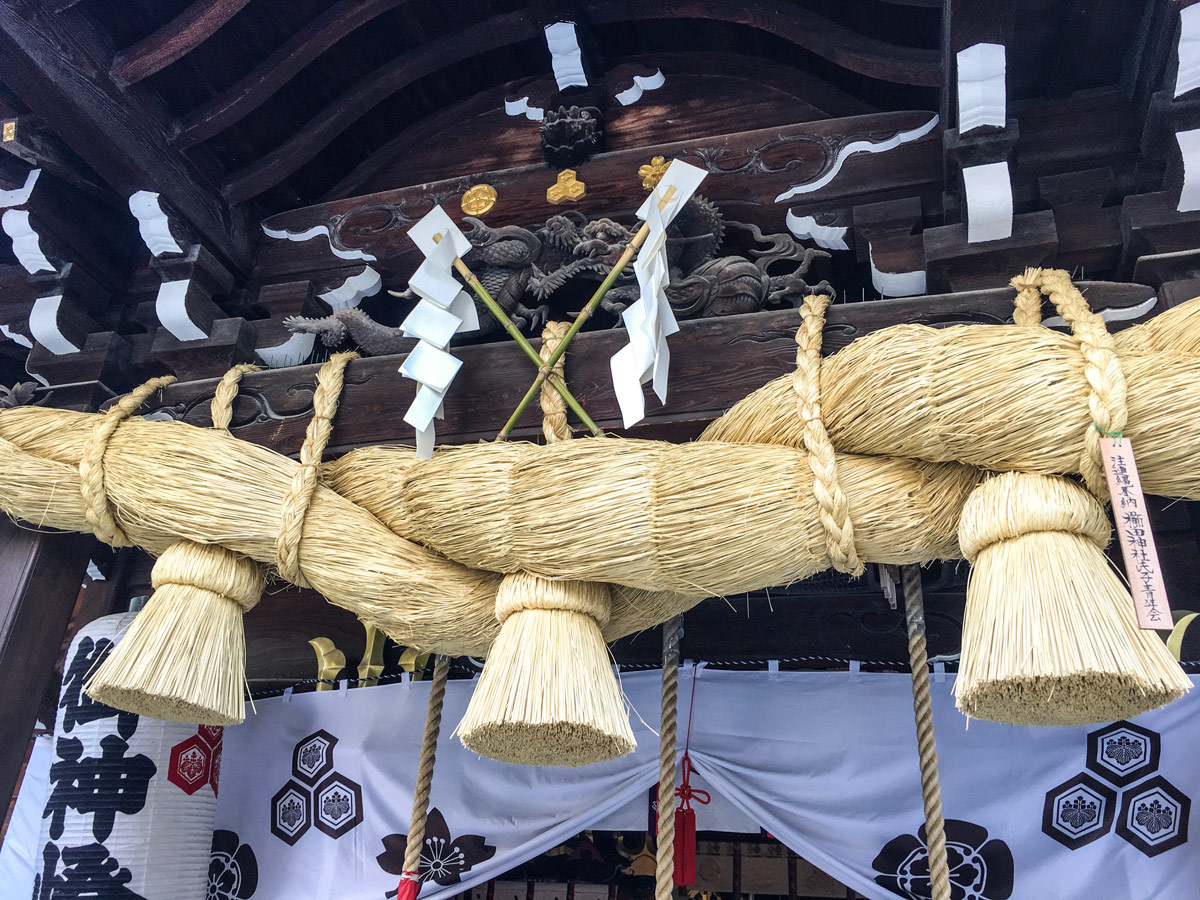 After the thrill and satisfaction of shopping and hunting for fabrics, Marico and Toshie had arranged for lunch at the largest old Buddhist temple in Kyoto. There we ate a vegetarian meal in 8 parts. Each course came in a lacquered dish and at the end of the meal the dishes were stacked one in the other to from a beautiful nesting arrangement of cinnabar bowls, so thoughtful and pleasing. Plus, of course, the food was divine!
The next day was a free day. I was on the hunt for the perfect rain umbrella. There is a shop for everything in Japan. The large department store Takashimaya has it all of course but there are artisanal shops for everything else. To get to the area where the umbrella shop was we passed through Gion. Gion is the storied neighborhood where Geishas lived and entertained their clients. It is one of the remaining older areas where the buildings retain their luster and older style architecture. You can rent colorful kimono for the day and walk in elevated sandals with the split-toed socks. We saw quite a few younger women playing Geisha for the day.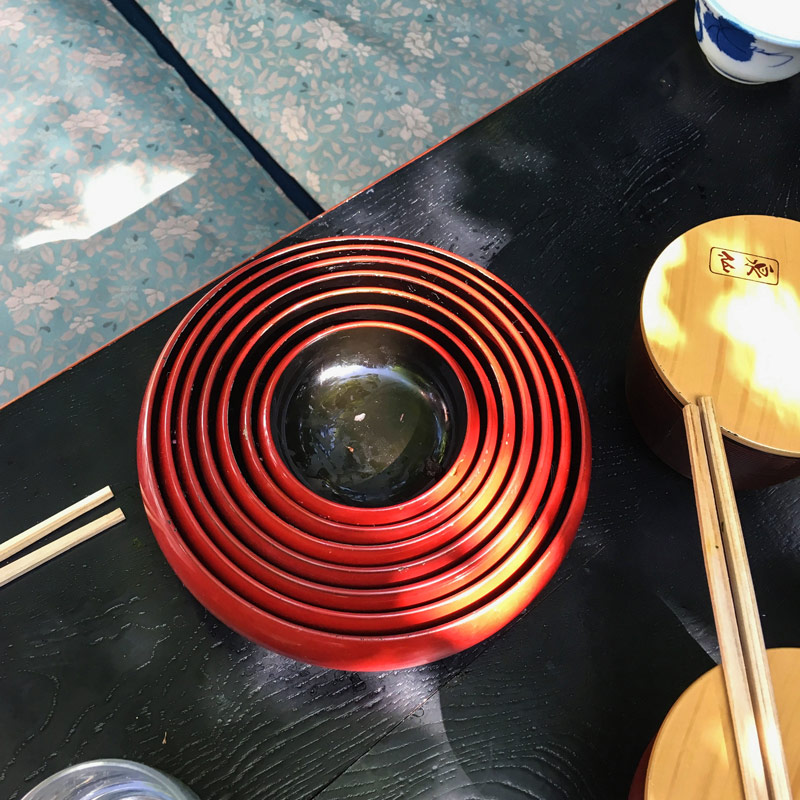 The next day we took a train to a large Shinto temple in the hills outside of town. This was something I really wanted to see. The vermillion arches wend their way in a loop up the hills and back around, you are in an altered state of orange. I think it might be the largest shrine of its sort. 
The last shorter trip we took was to Takayama, a small town that is in pristine condition, many older Samurai houses, beautiful canals with large koi in floating residence. Marico took us to two wonderful thread stores where I bought a lifetime supply of Sashiko thread, some hand dyed.
The following day we drove to a small gathering of houses to meet Kazue, a papermaker, who is a Living National Treasure. She was having a photo shoot in her garden when we arrived. Her studio is very humble and I had no idea what to expect and surprised to meet her, she was like an apple doll, bent over but with such a life force and twinkle in her eye. She guided us in the art of paper making, stirring her brew of paste and pulp. I brought home a paper spider duster with a wooden handle. I love having a useful item that this almost centenarian has made.
The rest of the trip we stayed in a village called Furukawa at a ryokan named after radishes. There we perfected the art of managing an13 to 18 course meal, called Kaiseki, without eating absolutely everything in your dish. It's a skill, and a necessary one if you want to survive with your stomach intact! I cannot say enough for the food in Japan; so fresh and inventive, so well seasoned.
The last day before leaving in the afternoon, I rambled around Kyoto with Marico. We ate one last meal at an artisanal Soba restaurant, a walk through the food/shoe market, and a slip into a secret corridor to find the needle shop, the charming traditional garden on the way to a jewel box store selling: sashiko needles and snips. There are surprises and beauty wherever you go in Japan, and I had the best hosts!