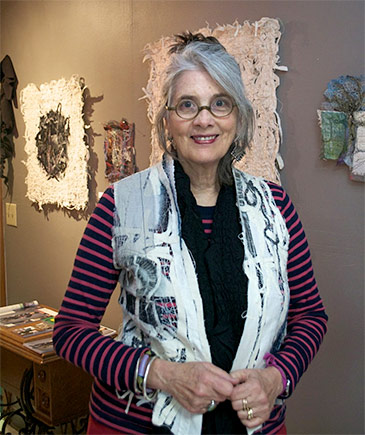 I was born in 1951 into an artistic family in San Luis Obispo, a lovely, romantic setting on the Central Coast of California where beatniks and bohemians abounded. After a bucolic childhood, I relocated with my family to the big city of San Francisco. The '60s were in explosion, and patchwork was all the rage. At 16 I started patching patterned fabric on top of everything-jeans, pillows, shirts.
My time in the '70s was split between France and Morocco, where inspiration was on every corner.
In Paris, the creative life had existed for generations in its café life and mysterious Pigalle next to iconic Montmartre, home of the great fabric emporium Marché St. Pierre. There I was exposed to some of the greats: Kandinsky, with his spiritual alignment of shapes driving organic energy, and Sonia Delauney, her innovative use of relationship between colors – bold, simple and exciting.
Morocco was rooted in ancient tribal traditions and quintessential Kasbah architectural lines intersecting with pure blue sky, all enhanced by exotic sounds and smells. I was caught up in the beauty and profusion of rustic wools and shimmery satins.
It was a rich moment in time…
Returning stateside in the '80s, I saw an opportunity to merge my two disciplines – painting and textiles. I began painting with dye on fabrics, experimenting on raw silk, wool and velvets.
In the 90s, I ran a production studio, traveling to NYC to trade shows and doing small collections, which was so very educational and stimulating.
When I became a mother for the second time in 1994, I realized that I needed to optimize my creativity within the new parameters. So I decided to do the parts of the business that generated more excitement for me: mixing the dye colors, and painting on the fabric, jobs that I had hired my employees to do. In downsizing, I found myself re-invigorated.
Over time I have added silk screening, overlays and stitching onto the fabric to add dimension and complexity. As a nod to my textile origins, I am now piecing in a patchwork style, collaging scraps and cuttings accumulated over the years.
Surface design has been a creative anchor for me, a way to deepen my sense of composition, explore my language of symbolism, and refine my instinctual use of color.