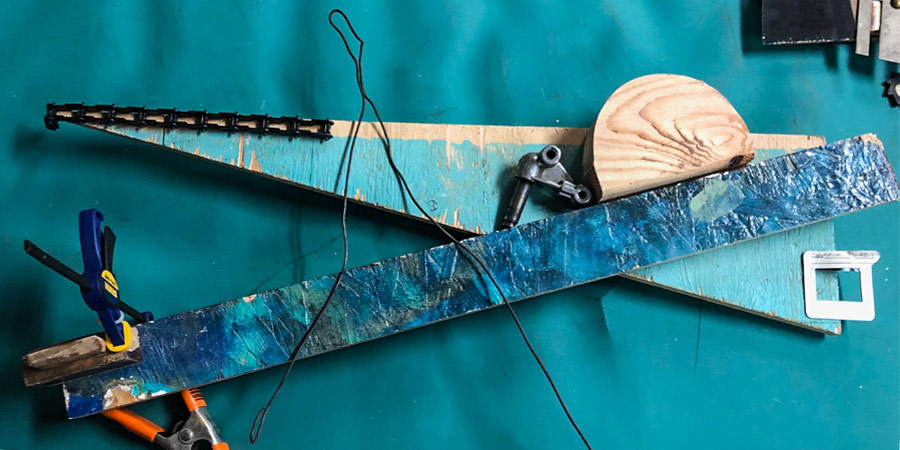 Assemblage: The Re-contextualizing of Objects
There is an affliction some artists have of seeing potential and beauty in everything. Now that I have taken a plastic fusing class, a bookmaking workshop and an assemblage class—will I ever throw anything away again? This affliction also involves picking up trash from off the streets and highways.
A San Francisco artist friend of mine, Helen Cohen, told me she was signing up for this class and I jumped right on it. Not just to hang with her but the possibility of moving into more 3 dimensional work.  It must be said clothing is naturally dimensional, but in my "fine art" side of life, I wanted the freedom to come off the wall.  The teacher, James Sansing, has been running this class for many years. He is a patient, insightful, low key man and has done installations at many locales. 
The first couple of classes were so noisy! James dumps out bin after bin of "junk" from the dump on the tables and students paw through it. So, it's a cacophony at first, searching for the gems and objects that are calling your name. All of a sudden your bag is full and ideas are flowing.
As the weeks go by the room gets quieter as minds are concentrating. I let myself move from one project to another, the compositions forming almost effortlessly. I worked on several at a time. You watch others at work. You watch what they put back on the table that looks cool and a new piece forms.
What is a girl to do? Make ART not WAR!
I learned about gluing, sawing, piercing, screwing. It is not rocket science, but having a teacher to be there in his quiet way to support the process and other students dedicatedly putting together their work is fun and rewarding. The last class is the big reveal. Many surprises come from the back corners of the room.
Now of course, the material I have left is sitting in a topless plastic tub leftover from the dump. To go with my bag of collected plastic and my bag of paper! Alas. What's a girl to do?