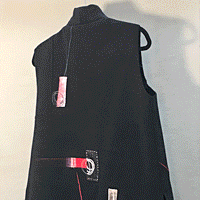 Holiday Studio Show
December 1 & 2, 2018, 10 – 4pm
A Local Holiday Makers Meeting
Latest fall creations and guest artists, refreshments and conviviality!
Saturday, Dec 1st:
Bones and Stones: talismanic jewelry adornment 
Suki Diamond: iconic whimsical tableware
Betsy Chatton:  beautiful woven scarves and towels
Boneyard Beanies: soft hand dyed crocheted beanies and hats
Sunday, December 2nd:
Francesca Kennedy: jewelry hand wrought with an artful eye
Braeda Horan: colorful poetic monoprints
Me: more fun with indigo and pieced/stitched wool
Seasonal treats and libations!
Feast for the eyes, soul and body!
Visiting, connecting!
Don't miss Style '18 at the Museum of Craft
and Design!
The Museum of Craft and Design invites you to Style '18, a juried event benefiting MCD's MakeArt education programs. We are thrilled to have selected 40 local, national and international contemporary fashion, jewelry and accessories artists. Check out the selected artists here and then mark your calendars to shop their beautiful work in person! Attendees can experience and purchase original pieces as well as meet the makers. Complimentary valet parking available.
General Admission | Free and Open to the Public | RSVP
SAT, NOV 3, 11 AM–6 PM
SUN, NOV 4, 10 AM–4 PM
Complimentary valet parking available.
General Admission | Free and Open to the Public
Museum of Craft and Design
2569 3rd St San Francisco, CA 94107
Fall Explorations
I am working on a sampler coat. Trying out different stitches on the black and persimmon colored wool. And doing some random pleating to give texture and volume…
I am working with a new vest pattern like 2 that I had in my closet. (Shop your closet!) Digging deep into the stash for fun odd wools.
I am going to continue in the indigo vein. I have made 2 new dress patterns and a new top, plus the drapey vest, should all look fabu in pieced indigo!
Workshops
I am offering workshops at my studio! Please contact me for possible dates. Subjects are:
Painting with thickened Dye-learn to paint on silk and wool. Make your own fabric!
Silk-screening with dye or pigment: Create your own image and print it on a top or pillow.
Create a re-do: Bucket dye a top to embellish with fabric, stitching and silk screen.
Explore using Solvy: A dissolvable interfacing, for collage with thread and fabric scraps.
Floorcloths: Make a canvas rug!
Or customize your own weekend retreat!