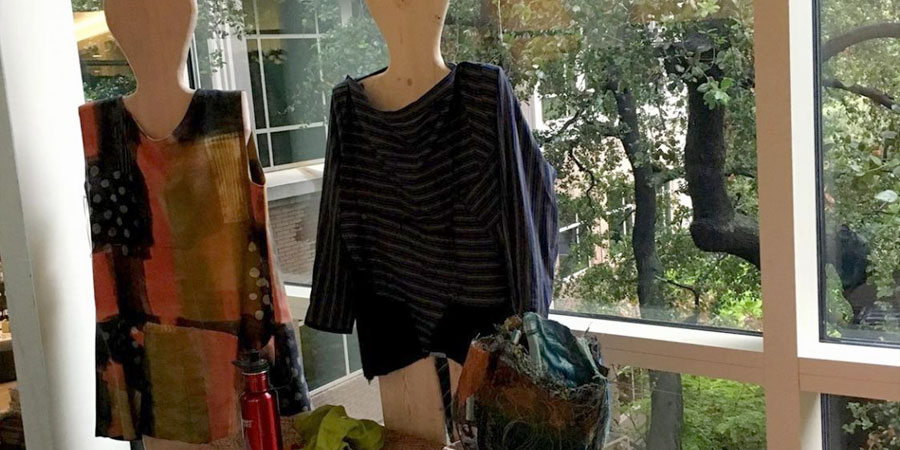 Style 2016 in Palo Alto/ Mountain View
This year's Style show went smoothly in spite of the rain. And we were happy about that. Attendance was high, I loved my neighbors. On one side was Slice lab, a couple of guys using a 3-d printer to create jewelry. Fun pieces, some necklaces looking like they were made of tiny bleached bones. And very reasonable prices. I bought one that is ivory colored looking like many rubber bands strung together. Can I just say it's hard not to buy something from your neighbor?!
On the other side was Old House—Sandra Althouse, making ponchos and dresses from old cashmere sweaters and remnants of knits or velvet. She went on a Paris tour with Marcy Tilton and so we had to send Marcy a picture of us together. I ended up with a graphic black and white dress of unknown fiber content and a wonderful poncho gradating from dark blues to light robins egg blues. She got a terra-cotta scarf! A shout out to her son, Xander, who helped me schlepp my fabulous and very heavy mirror. I couldn't have done it without him!
The clothes I worked so hard to make were appreciated and purchased by happy women. I am gratified when I have been at my creative edge to have the confirmation that the work is good, will be worn and give pleasure to the wearer and the observer.
And I will say again how wonderful it is to be among my peers, to be energized by what they are making and they by what I am doing. I need, and I think all of us who work in isolation, need a fertile ground to exchange ideas and gossip and love each other up. And eat fine Korean food!! We do need the audience and hopefully we will continue to have one. Thanks to Diane Master for providing the venue!