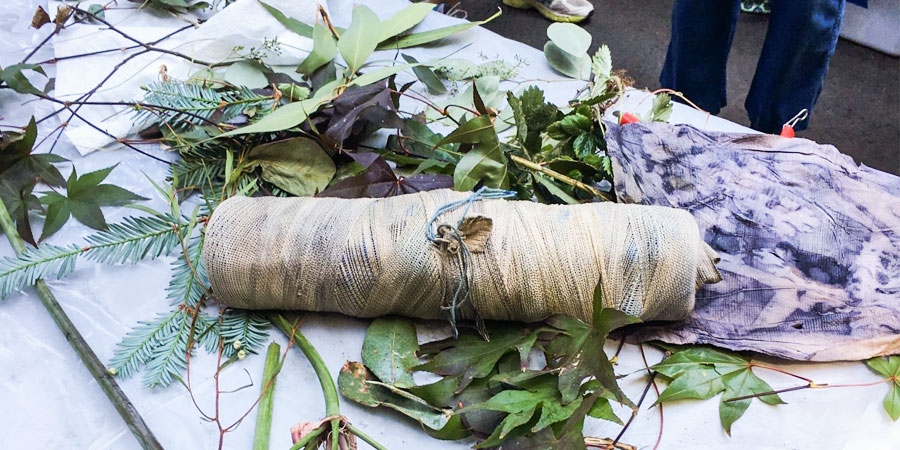 Is it really November already? My September was a mad house. I had to recover in October.
First on the agenda was a lecture / workshop for Penwag (Peninsula Wearable Art Group), on September 10th. I worked on a new slide show for the trunk show portion of the day. There's a learning curve showing up and not really having an idea of the layout and facilities. I do feel comfortable talking about my history illustrated with the photos. Followed by dressing the real time models in my pieces and letting them walk around for all to see details and textures.
A quick lunch and then over to the classroom. There were 23-ish women in the class, and they were a bit spread out for my tastes. It being a 3 hour class it was more challenging to create a cohesive space where we can bond and get deep, as a result it felt pretty diffused. However, that said there was a lot of play time silk screening and printing with the linos. I think satisfaction was had in that department! I did try to attend to everyone and give thoughts on their process.
The following weekend I took a class from a German woman- Pia Best and her daughter Marie, who translated. Pia is an dyer who's speciality is using botanicals. Her process includes starting with indigo dyeing, laying out the leaves and branches then rolling the cloth, mainly a rayon/spandex, around the rusty pipe and then binding it in ace bandage and steaming for 5 hours, hourly dousing with vinegar. Quite a process, that yielded magical results. It felt like an alchemical experience dating back from the middle ages. And probably was!
What I love about indigo dyeing is how centered you need to be in order to not add oxygen to the vat. Takes concentration…Then the musty indescribable smell of the rusty pipe, vinegar and eucalyptus or other botanicals. Whew! I have some nice samples to explore with and an idea that in fact I could maintain an indigo pot if I wanted to. Plus do some more steaming with leaves. Maybe on the weekend so that my neighbors would not be alarmed at the smell…