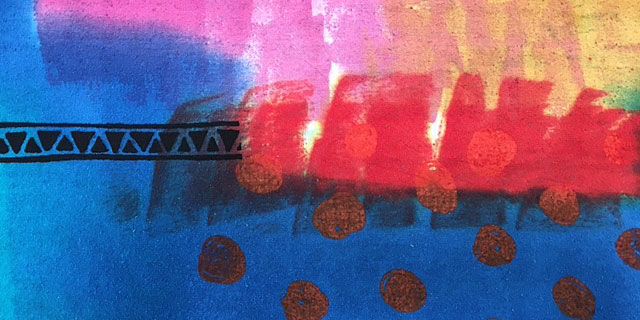 A deadline always helps! The Mountain View show is coming up-only 16 more days. What that means for me is a lot of production. But what it really means right now is having fun and doing  my process in a different way. A-real-one-of-a-kind-way. It means being moved towards a piece of fabric, seeing an image in my mind that excites me and letting that be my guide.
Some of the journey towards a finished piece starts awhile before. For example, my husband and I went to our lawyer's office and in the lobby were these paintings. Bold and colorful they were, with wonderful markings. I took pictures and back at my studio enlarged them on my phone to highlight the graphics I loved. Then I did some sketches inspired by them, from which I made screens. The colors I mixed were enlivened by the paintings palette and bold color-blocking.
To change it up, I am using pigment on to top of my painted cloth. Previously, I would silk screen the dye, let it dry and then paint my watery ground on top. What I found happening was the printed image was getting muted and blurred. Granted, I sometimes loved the areas that would bleed. But now, especially with black, I am wanting a crisp black image as the final layer. Or printing with color as in the red dots.
I was moved the other day to print on some indigo; black dots give it a tone on tone feel,  while the white prints give it an interesting contrast. I'll cut the pieces up for overlays.