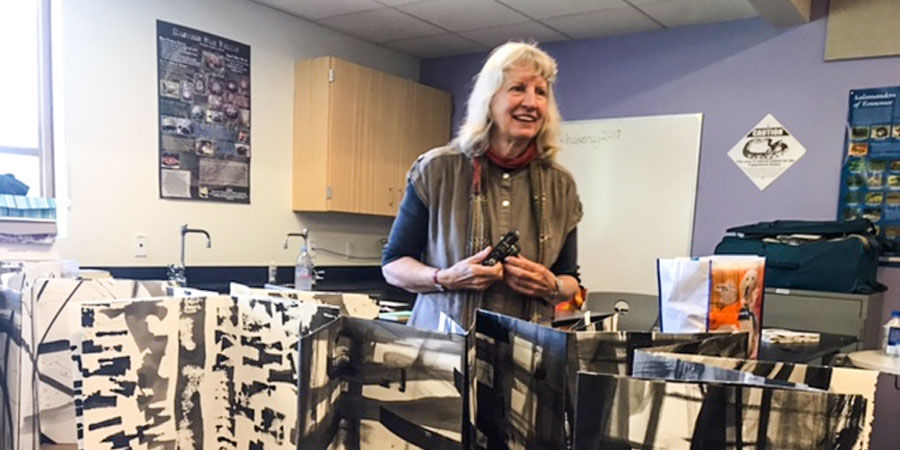 Dorothy Caldwell: Human Marks at Shakerag
Back in September at the Eco dyeing class with Pia Best, my Santa Cruz friends told me they were signed up for a class in Tennessee from a woman whose work I admire: Dorothy Caldwell. I often find out about work and artists through Pinterest, or my art group. And I have long "pinned" Dorothy's work. I love her sensibility, colors and simple forms.
So, I said I'm in!
My husband and I planned to go a week ahead of the class for exploring and a roots tour, as my grandfather was born in Cocke County, the heart of deep Appalachia. Not knowing what to expect makes me nervous, and the thought of moonshiners and meth dealers made me even more nervous!
But what we found in our travels were cities in the process of revitalization and with that, great food and culture. And outside of the big towns were winding roads and pastoral scenes, tidy farms for the most part.
That scenario prevailed as we drove up to St. Andrews/ Seawanee, the campus where Shakerag offers it's two week summer classes. Atop one of the bluffs, next door to University of the South, the rolling campus is a calm spot for letting down ones inhibitions and preparing to be creative.
Dorothy's class was one of five classes being offered that session and there were 17 women participating in hers.
She presented in the morning and afternoon. The exercises we did were simple, mark making, painting with India ink, Kantha stitching, batik/discharge, and finally book making. I had done some of them before, but this context made them fresh again.