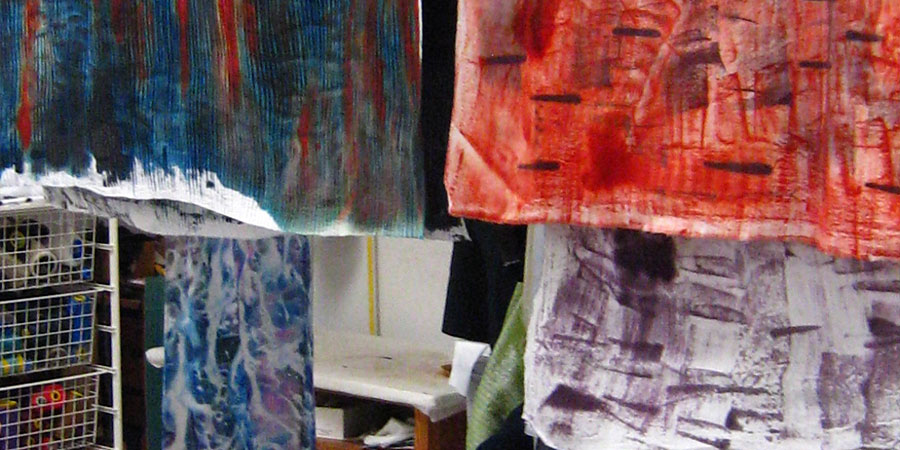 3 Cruzianas: Winter Painting
The group is getting distilled. From eleven to five to three. And the three are passionate painters. Because they have already been en studio, there was an idea of what was possible. Sharon brought a packet of images to be made into silk screens she had designed. Each had brought pre-washed fabrics to sample. I had mixed 3 large jars of "chem",  the thickened mixture we add the dyes to for flat painting. And I had extra mesh for making the silk screens. Set to go.
The 1st day was getting our priorities established.  Silk screening first so it can "batch" and soak up the black dye. Then getting started on painting yardage of different fabrics. They had purchased some natural wool flannel at my source, and had bought the striped cotton/linen they had fallen in love with at the last workshop. Plus bits and pieces of other interesting cottons and velvet. Lisa brought a dynamite shantung organza. I'm going to go right out and get me some! Such body and texture. Love it!
The time seemed to tear by at a rapid clip. Every available rack and ladder was covered with drying fabrics. We ran out of painting tables. I mixed more dye. There was still more to work on. So much so that we added on a day  in order to let the pieces dry, make the silk screens  and possibly paint one more hunk of fabric.
All the while I was fighting a cold, and what I noticed was as the days progressed and  the excitement of sharing in the creative process, by the last day I felt healed. It was amazing. There was such a flow and sympatico between us, these women who have spent time together in a creative container. I was very honored to be part of their history and provide new horizons for their work.