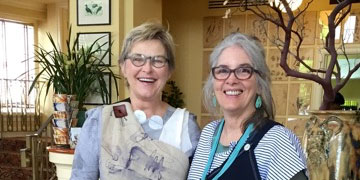 The Magic of Ashland! DOL with Diane Ericson
The large room was decorated in an arabesque style, white trim and Naples yellow walls. It became the warren of busy women, all eager to move forward in their work and creativity.
This second DOL I participated in was in Ashland, Diane's hometown. It convened in the Ashland Springs Hotel, an old refurbished hotel, the tallest building in town!
Across the street is Sew Creative, a marvelous fabric store. Couldn't be more convenient. Many great shops and restaurants line the streets and, of course, if one had time there is the theater.
I felt calmer this time. Knowing more what to expect and what might be required of me. One of the pleasures of a gathering of like souls is: who will show up, what might they do and how will they contribute to the whole energy/gestalt of the group. I was not disappointed!
There is an openness these women have that serves as the conduit for magic to happen, or at least process. And with that openness comes a vulnerability to be present in a group setting, because everyone has their own pace and style of working. No judgment. It is a beautifully held circle.
Diane and I presented our pieces to a rapt audience. There was something for everyone. I am in awe of Diane and her mastery of details. I realized that because I am more production oriented, albeit low production, that we have very different approaches. As my friend Collins says we complement each other very well.
A special treat was meeting Miles, Diane's son. He did a demo of his printing techniques and shared his artwork with us. He is a younger free-form reflection of his mother, energetic, charming and affable. We exchanged ideas and I shared my Solvy technique with him and artworks were traded as well.
Little by little projects coalesced on each table. Pieces were tried on. I was happy to drape a piece under Diane's eye and had a small but not insignificant break through on a seam that juts out. Simple (or not so simple) pleasures! It was fun to partake of the stitching and watch something take form.
Knowing this was probably my last teaching with Diane added to the tender tying up of the loose threads and the closing of the circle. The intensity of newly forged friendships and ideas remain, to be remembered and tapped into even after all this time has passed. I am grateful to be part of this G-threads group, that keeps us connected and broadens our world.